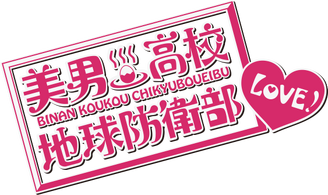 Binan Koukou Chikyuu Bouei-bu Love!
(lit. Handsome High School Earth Defense Club Love!) 
is an anime original series, which is produced by Diomedéa and Pony Canyon Inc, and is directed by Takamatsu Shinji. It premiered on January 6, 2015 in Japan and has aired on TV Tokyo, along with other stations and online services such as Nico Nico Douga.
Bestowed with Magical Love Bracelets, each of the five members must strive to protect Earth from the snares of the evil enemies and to fill the earth with "love".
The 12 episode series is licensed by Madman Entertainment in Australia and New Zealand, and Funimation Entertainment in North America and Canada. Crunchyroll acquired simulcasting rights over the show and began streaming them on Tuesdays from January 6, 2015 at 10:40 PST. [1]
PonyCanyon USA has acquired license to the show, and is set to release its Limited Collector's Edition with the first four episodes of "Cute High Earth Defense Club Love!" on August 10, 2015. Collector's edition 2 and 3 are to be released in September and November respectively. [2]
A second season for the magical boy series titled "Binan Koukou Chikyuu Bouei-bu Love! Love! " (Cute High Earth Defense Club LOVE! LOVE!) has been green-lit, as announced by the anime production team on Twitter. [1]
The first episode to the sequel is set to air on July 7, 2016 on TV Tokyo at 03:05 (11 PST) at the late night slot. Subsequent episodes, (episode 2 and onwards) are set to air at 02:35 (10:35 PST) every Thursdays. The series will also air on channels like TV Osaka. TV Aichi, BS Japan, AT-X. [2]
Crunchyroll has announced its plans earlier on to stream the second season.[3] The schedule for the same has yet to be decided. FUNimation will also be streaming the sequel online. [4]
Characters (Season1)
The Loveless
Game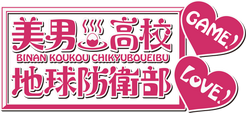 Anipani, the official game developer, had announced a visual novel (otome) game for the series, on platforms such as iPhone and Android devices, which was to be released on Febuary 2015.
Music
The Defense Club (Boueibu) will perform the opening theme titled: "Zettai Muteki☆Fallin' LOVE☆ " (Absolute Invincible☆Fallin' LOVE☆)
The Conquest Club (Seifuku) will do the ending theme, titled: "I miss you no 3 meters "
Trivia
Director Shinji Takamatsu believed the acronym would be 美L (pronounced the same way as "BL") but the fandom went with "Boueibu" instead. However, some people use "BL" to shorten "Battle Lover" or "Battle Lovers". As of season 2, Takamatsu uses "Boueibu LL" (read "Boueibu LOVE! LOVE!") to signify production tidbits on Twitter - "Boueibu LL" seems to be a standard Japanese fandom name.
Character Songs
Ore wa Kyuukyoku Taiman Shugi-sha ! ! by En Yufuin (CV: Yuichiro Umehara)
Baby Baby Sweet Baby!! by Ryuu Zao (CV: Toshiki Masuda)
References
Community content is available under
CC-BY-SA
unless otherwise noted.