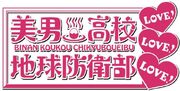 Binan Koukou Chikyuu Boueibu LOVE! LOVE! LOVE! (美男高校地球防衛部LOVE! LOVE! LOVE!), subtitled The Graduation of Love and Youth! (愛と青春の卒業! Ai to Seishun no Sotsugyou!) is a 58 minute[1] OVA which aired in select theatres across Japan for a 3 week period in August and September 2017, starting on August 26th. It was preceded by an all night season 2 screening/advance OVA screening on August 25th 2017, exclusive to the Ticket Pia booking system. The OVA is said to be the "concluding chapter" about the graduation of the 3rd years. [2]
The opening theme is Eternal Future LOVE YOU ALL (永遠未来LOVE YOU ALL Eien Mirai LOVE YOU ALL), while the ending is From Both Our Hearts (心と心でKokoro to Kokoro de).[3][4] Crunchyroll acquired it for streaming everywhere outside Asia on November 18th 2017.[5]
The OVA was sold as a DVD and a Blu-Ray starting from November 15th 2017.[1] It became the highest-selling animation DVD and the 3rd best-selling animation Blu-Ray for the week of November 13th to 19th 2017, according to the Oricon charts.[6][7]
References
↑ 1.0 1.1 http://boueibu.com/package.html (Japanese)
↑ http://www.animenewsnetwork.cc/news/2017-07-21/cute-high-earth-defense-club-love-love-love-ova-trailer-streamed/.119149
↑ http://www.crunchyroll.com/anime-news/2017/11/18-1/crunchyroll-adds-cute-high-earth-defense-club-love-love-love
↑ https://www.animenewsnetwork.com/news/2017-11-21/japan-animation-dvd-ranking-november-13-19/.124311
Gallery
Videos